Inadequate financial and bookkeeping services will rank towards the top of any factors for failing businesses. It is the first sign of impending calamity for firms when they lose control of their financial activities. Professional accounting and bookkeeping services are crucially vital for small business owners. 
As the world shifts after the COVID-19 pandemic environment, small businesses weigh the advantages of contracting corporate services such as virtual bookkeeping. Companies today expect things to be simple. 
Throughout this stage, they want to react swiftly, be lean, and flourish. They employ a virtual presence that may assist in achieving this goal. Before we dive into the positives of using a virtual accounting service and how it may help your company, we must understand what virtual bookkeeping is.
A Virtual Bookkeeper
A virtual bookkeeper works from a distant area to provide bookkeeping services. The bookkeeper's services are available outside your firm – at their offices or homes. They conduct consultations and periodic review meetings in person or via video chat to communicate effectively.
Besides this, trivial interactions get handled by email or phone conversations. All of this saves cost and precious office space! The benefits continue. Here are some of the top bookkeeping services available online:
QuickBooks Live

1-800Accountant

Ignite Spot Accounting

Bookkeeper 360

Botkeeper
Here is how a virtual bookkeeping service helps businesses out.
Benefits of Virtual Bookkeeping Services
1) Professionals with Years of Experience
To save money, most businesses delegate bookkeeping to their junior accountants. Now, this is an enormous blunder because bookkeeping is an easy yet challenging activity. The key goal is to make as few mistakes as possible. As a result, competent specialists are necessary to produce business accounting books. 
But, because engaging skilled people is costly, what is the alternative? Virtual bookkeeping firms hire top bookkeepers from all over the world to deal with many clients. They are capable of paying for skilled accountants. 
You can choose a virtual bookkeeping company that can help you acquire the best financial services while staying within your budget. 
2) The Flexibility of The Bookkeepers
When you engage an outsourced bookkeeper, you can expect them to work around your schedule and be available whenever you require them. One may only have time to work on accounting tasks according to their convenience, but online bookkeeping specialists can rapidly adjust to your needs. They can also operate your team for 24 hours – if you hire a virtual bookkeeper from another zone or country with a different time zone.
3) Putting Your Business First
You will also have complete and accurate access to up-to-date financial information whenever needed, making it easier to operate your business and keep it regulated. Not only that, but you can be able to use these assessments and accurate financial statements to allow you to make informed choices about the organization's growth.
The most significant advantage of outsourcing a bookkeeper is that it aids you in concentrating on what matters: running your business. You will have the peace of mind of knowing that an experienced professional handles your day-to-day accounting needs.
4) Exceptional Technical Support
The quality of bookkeeping services has dramatically improved using the most recent software. Virtual bookkeeping firms have the finances to invest in cutting-edge technologies. On the other hand, small firms need to find a way to afford to invest in the most updated bookkeeping software or upgrade it regularly. They also provide substantial training and technical support to their employees without charging extra.
5) A Cost-Effective Solution for Overhead
The cost of an in-house bookkeeper ranges from $43,890-$54,092 a year. You will also need to invest in infrastructure to accommodate a new employee in the company. Hiring an in-house bookkeeper has a significant financial impact. You can save up to 70% of your hiring costs by hiring virtual bookkeepers from low-wage countries. 
You must only pay for the services you have received. Therefore, hiring a virtual bookkeeping service can save you a good amount of money. 
Following other financial solutions, employee payroll, payroll taxes, employee benefits, insurance, office equipment, and so on are all part of a more generous economic solution. You only spend on your accounting software and payroll system if you have staff, as well as a service charge to your virtual bookkeeper.
6) Assist in Keeping Your Business' Finances Managed 
Virtual bookkeeping services play a tremendous role in maintaining your organization. It gets executed in two ways:
Using best practices to document all financial activities resulting from a business activity accurately is crucial. Bookkeepers often need a massive library of all transactions and associated costs. It helps to properly track all of the financial transactions relating to your business. They may categorize financial transactions as goods or services, wages, taxes, or other fundamental business operations. 

To calculate and assess the financial results of business operations. When it comes time to audit all reported financial transactions, bookkeepers create reports that show how the company allocated its money accurately. A bookkeeper produces the balance sheet and income statements.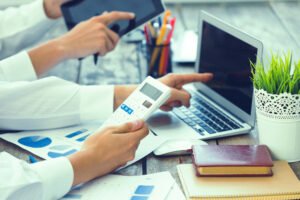 7) Employ Unbiased Opinions
Unconscious bias is the foundation of how an organization functions, and if not controlled properly, it may lead to actual physical weaknesses that determine whether an organization succeeds or fails. It's a good idea to have someone from the outside look at your finances and give you an unbiased view. It might help you figure out any unpremeditated flaws or mistakes in your current program.
8) Represent Your Organization
If you have a small business with only one accountant, everything depends on that person's shoulders, from accounting records to tax returns. 
How can your accountant keep up with the latest accounting trends or manage risks if they are buried deep beneath the many accounting books? It is unjust to expect one individual to handle all accounting and bookkeeping duties. Due to this, hiring a virtual bookkeeping service can come to your aid. 
You may free up time for your in-house accountant to focus on other financial areas of the company. When your accountant has time to assess numerous investment choices and conduct market research, he can effectively advertise your company.
9) Monitor Your KPI's
Key performance indicators (KPIs) are quantitative values that show how well an individual, a team, or an organization is accomplishing a business goal. Professionals can also establish personal KPIs to track their progress, assist their decision-making, and enhance their effectiveness over time. 
They can, at times, help to lessen conflict. When compared to beliefs or hypotheses, it's easier to disagree with numbers. They make job descriptions more clear. You can utilize them to supplement your consulting services and help your clients run their company more efficiently.
10) Building a Solid Business Foundation
If you want to promote your business, you will need a solid financial base, and virtual bookkeeping is unquestionably the way to go. Virtual bookkeeping services offer several advantages, ranging from time flexibility to expert services. So, do not even second-guess yourself and choose virtual bookkeeping for your brighter future.
Final Thoughts
Finding a prompt, reliable, and reputable bookkeeper is critical because you cannot just walk into their office when you need something. Such virtual bookkeeping services can be advantageous in tons of ways. However, it is vital to investigate the accessible professionals who can make all of this easy for you.